DNA Testing for Dogs
DNA Testing for Ancestry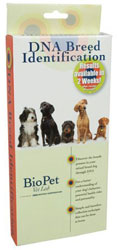 The BioPet DNA Breed Identification Kit is an easy-to-use home kit for DNA testing for dogs. This dog breed test recognizes 62 breeds which covers 92.5% of America's mixed breed dog population.
Along with the DNA test results, you will receive:
Ancestry Analysis Certificate
Suitable for framing
Behavior, Health and Personality Summary
Provides general information about each of the identified breeds

Accurate Canine DNA Testing
Can a cheek swab provide as accurate a canine DNA testing sample as a blood test?
Because DNA is found in almost all cell types, chances are high that you will be able to gather an appropriate sample. There are drawbacks, however, including a risk of contamination and too few cells being obtained for successful testing.
In order to avoid collecting an unusable sample size, BioPet Vet Lab includes a card that changes color to indicate that a sufficient sample is present. Of the nearly 1 million DNA samples submitted to the American Association of Blood Banks in 2006, over 98% were buccal cheek swabs. Less than 1% were blood samples.
Woof!
Cheapest dog DNA test on the market
DNA card changes color to ensure an accurate sample is collected for dna testing labs
Includes a pre-paid envelope for returning the sample
Results come in 2 weeks
Grr...
62 breeds recognized
Now only available on Amazon
Buy the BioPet DNA Breed Identification Kit from: