Juneau (June Bug)
by Eva Rummel
(Newberry, Florida, USA)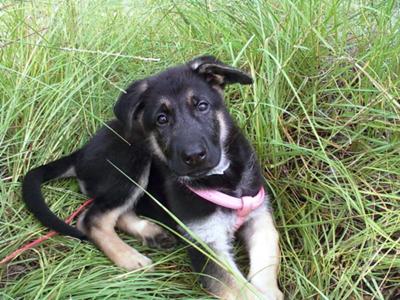 Playing in the grass
Juneau is just over four and a half months old. She is very playful, loving and full of mischief. She has fallen in love with two previously feral cats that I have domesticated that live around my house. In two and a half months she has absolutely stolen our hearts. She has decided that she owns everything on our 7 acres of property and in our house (her house).


Even though mommy buys her the best dog food, she loves to eat bugs, leaves, sticks and her cats now bring her presents and leave them on our door step (like dead mice). She also loves ice cubes and loves to put her front feet in her water dish as she is drinking.
She has a nice fluffy pillow to sleep on; however, she would rather sleep on top of the air conditioner vent, she will run to it when it clicks on.
She has promised to protect our home and family for many years to come.