Korea gives me Seoul
by Tokyo Fatuesi
(Richmond, Virginia)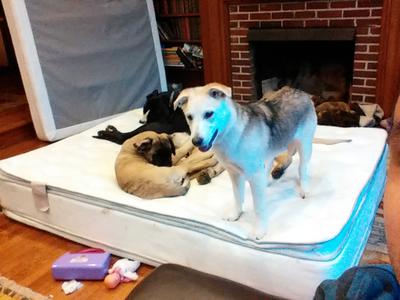 Korea, my GSD Husky mix
My dog's name is Korea. I named here after my brother joined the military in 2000. It's 2015 & Korea was the last place he was stationed.


My friend had a litter & I finally moved into a place where I could have a pet.
I have no information on her parents nor her background really.
She is the only dog I have. My roommate has a dog too. They get along very well since Rocky met Korea when she was only 8 weeks. She now is 6 months.
Korea doesn't have a single ounce of negativity in her bones. She loves making friends (dogs) EVERYWHERE we go haha. She has that "It's your house? That's cool. I just wanna play!"
Also, she paces herself at other people's houses before we go to sleep. Is that her just being a guard dog since both breeds are known for protecting their pack?
Join in and write your own page! It's easy to do. How? Simply click here to return to German Shepherd Husky Mix.