The German Shepherd Husky Mix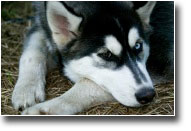 Do you have a German Shepherd Husky Mix?
You most likely have a very vocal dog with a strong work ethic. And you probably vacuum regularly.
A member of the working group, Siberian Huskies were bred as sled dogs. This explains their strong stamina and underscores the need to exercise them regularly. This medium sized dog was first recognized by the AKC in 1930.
Their coat is thicker coat then most other dog breeds and is made up of a dense, almost cashmere-like undercoat with a longer, more coarse top coat. They stand 20 to 23 inches at the shoulder and normally weigh between 35 to 60 pounds. Blue and brown eyes are common, as are dogs with an eye of each color.
Huskies are an independent dog breed. Though they love to be close to their families, they also tend to be roamers and do their own thing. Make sure you have a secure fence as they are known escape artists and can be quite mischievous.
This husky made a 12 mile roundtrip to the store and shoplifted a rawhide bone.
Huskies have a smooth and effortless gait, since they evolved carrying loads over great distances. They are very resilient dogs and thrive in low temperatures. How low? They are known to work and live in temperatures as low as -75 degrees Fahrenheit (-60 Celsius).
The Vocal Husky
A Husky is known for being very vocal. They are not big barkers, but big talkers. They tend to howl, much like wolves. And despite not being listed in the Top 10 Most Intelligent dogs, they're very smart.
Just ask 'em, they'll tell you.
Health issues common to the Husky are chronic diarrhea, epilepsy, eye problems, hip dysplasia and progressive retinal atrophy.
Shepherd Husky Mix
A German Shepherd Siberian Husky Mix will need to be involved in an activity as an outlet for their boundless energy. German Shepherds and Huskies are strong working dogs and require ample exercise.
Both breeds have a great amount of dog intelligence. They are easily bored and may become destructive without mental and physical stimulation.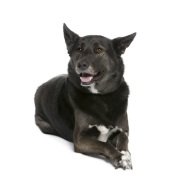 A Husky German Shepherd mix will be fairly easy to train as long as you are consistent and patient. Since both breeds have a known prey drive, proper socialization will be extremely important.
A Husky Shepherd mix will be a heavy shedder and require regular grooming. They will have a dense undercoat with a coarse top coat which will need to be brushed regularly.
Famous German Shepherd Mix
One famous German Shepherd Husky mix is Chips, a decorated war hero. He can also be considered a Border Collie German Shepherd Mix.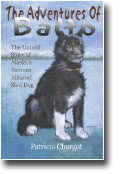 Balto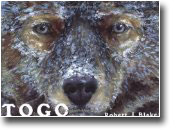 and Togo
, of the original Iditarod, are perhaps the best known dogs of the Siberian Husky breed.
In 1925, these courageous dogs led a sled team over 1,000 miles to Nome, Alaska, delivering a much needed serum for diphtheria.
Do you have a German Shepherd Husky Mix?
Tell us about your German Shepherd Husky Mix!
What Other German Shepherd Husky Mix owners have said
Click below to see contributions from other visitors to this page...