Restless Ricochet
by Sky Love
(Brownfield,PA,USA)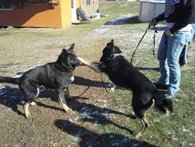 German Shepherd Bear(left) Husky Ricka(right)
My dog's name is Ricochet (Ricka).


Got her from a Husky rescue in Ohio. I don't know anything about her parents or background.
I have 2 other dogs. Her big brother is a pure blooded German Shepherd, Bear. Her baby brother is a Pitt Lab mix, Mickey. And she is great with them both but a lil protective over the baby.
She is a sweet smart girl, I have a special bond with her no one can understand. She is obedient, but hard headed. She is super protective of me and is always beside me.
Ricka has become a big part of my life and I really don't know what I'd do without her. Bear is my Bfs dog so he bonds more to him.. So Ricka, Mickey and I are just a tight bunch :)
Join in and write your own page! It's easy to do. How? Simply click here to return to German Shepherd Husky Mix.