Rockey - German Malinois Shepherd Puppy
by Michael
(Arecibo, Puerto Rico)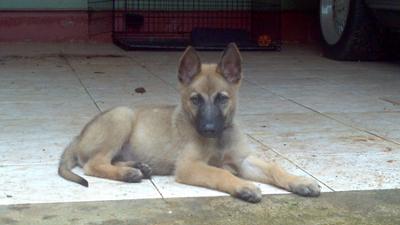 Rockey - German Shepherd Belgian Malinois Mix
Rockey is 12 weeks old puppy. His father is a German Shepherd and his mother is a Belgian Shepherd.


He is so far a true Diplomat representing honorably his heritage. He is a well tempered puppy whom shows very close attachment and loyalty to his human extended family. He is very watchful of his human pack leader by following me with a true dedication of loyalty. This trait was exhibited the same day he was brought home.
He likes going for an evening walk and displays himself in a dignified fashion. He is a balanced German/Malinois Shepherd puppy. He responds to the commands No, Sit, Down, and Stay.
He is allowed to roam around the house under supervision.
Rockey is crate trained and has been socialized to my other dogs which include an American Pit bull Terrier, Miniature Schnauzer, and a Chihuahua. He has made friends as well with Kitty my male cat.
He also enjoys watching our chickens. He has been tempted to pursue a chase but has been corrected just in time. So at present he feels comfortable just to see them go by. He continues to be socialized to children, adults and other dogs. He has been already to obedience training as an observer, he will begin his formal training shortly.
The other day a grapefruit fell off the tree and Rockey went and fetched it. That has been his fetch "ball" until no longer serviceable. So I got him a real ball which he loves to fetch and bring to the Alpha dog (myself).
The German Malinois Shepherd needs
proper training
since they are highly driven and can be bored if they have no mental stimulation. They need an experienced handler with firm but gentle handling, otherwise they will become not respondents. They need to feel as part of the team...
I hope you have been motivated to train and or continue to socialize your dog/puppy.
Michael
See an update on
Rockey's growth progress
.