Trytten the great!
by Wendy
(Roseville, Mi)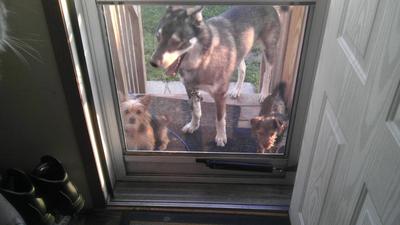 Trytten, my GSD / Husky mix
Trytten was adopted at a shelter in Emporia, Kansas when he was about 3 to 4 weeks old. He was one 4 puppies that were thrown over the fence at the shelter. Unfortunately I know nothing about his Mom or Dad.


Trytten was brought home and now has a little sister and brother (both yorkie mixes). He does well with both and the 2 cats. He does have separation anxiety, and it has taken us some time to get him to not get in to trouble while we are gone, but it does still happen from time to time.
Trytten has a large backyard which we have made husky proof and installed a doggie door so he can go in and out as he pleases. He does have friends on both sides of the yard and does pretty good with both of them, unless I get to close to the other dogs and then protect mode kicks in and he gets a little mean towards the other dogs.
All in all I would never trade him. He is a very smart dog and after 2 years, I can't wait to see what else he has in store for me!!
P.S. Yes he is very spoiled!! Wouldn't have it any other way!!
Join in and write your own page! It's easy to do. How? Simply click here to return to German Shepherd Husky Mix.