Bullmastiff Cross
by Jessica
(Galway - Ireland)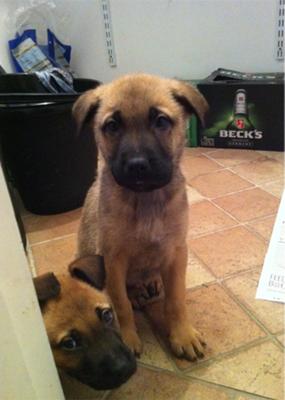 Goliath is the one standing up - 2 months
Hi, I thought it could be fun to share the experience I have with my two puppies.


They are now not far from 5 months old. I have not weighed them recently but they seem to be 3 times the size they were when I got them (2 months old).
In that time they were 4.5 & 5kgs (10 & 11 lbs), very fluffy and shy.
They have now lost all their front teeth but still have their puppy canines and wide molars are growing out at the back.
Their mum is a black and brindel Bullmastiff (very light and agile body type with a broad head). She looked more like a huge boxer with a huge face and snout. Very friendly dog and very energetic.
The dad is a
Black German Shepherd
from what I remember of him. He just dashed in the house like a hurricane, stared at me for a few seconds, licked the tip of my nose and dashed out again. I think that was an outdoor dog that was not happy to stay inside.
They were brought up in a farm environment and are not triggered by livestock behaviour: not even tempted by chasing a chick.
They are from a litter of 3 : 2 boys and a girl; the girl had already left, so I picked up both of them (Only wanted one but couldn't make my mind on which one to choose, so I took both).
They have completly different behaviour and looks. It seems that one of them (Goliath) has picked up more German type, and the other one (David) has more the Bullmastiff type.
They can look very alike, and people can't see any difference
in them, but I, seeing them every day, can clearly see it. Goliath, has a blacker face, and his snout is more pointed whereas David has a square snout.
Also, they don't behave the same way. When one would trade his life for food (Goliath) the other one would die without cuddles, affection and attention (David). If I would try and cuddle Goliath (who enjoys strokes and attention also) David would push him out of my reach and take his place (He would climb on me if I would ignore him and keep going for this brother).
They have this weird behaviour also: absolutly not afraid of fire. Goliath even ate hot ashes, ones that popped out of the fire place, and didn't seem to be bothered. Also eats peat and turf (which is used for fire). I keep having to get it out of their reach.
What strikes me the most is their colour. Their parents were both black or dark brown and they have this toffee colour.
However we, at the moment, live in Irland, so they are being used to the rainy Irish sun, but sleep inside at night time. They have access to a huge garden with no fence, so they are free to roam around (field and neighbourg gardens). They have never been far, (even if they have lost their way a couple of time when they were tiny puppies it was only three houses away).
There is a lot of livestock in the surrounding fields and have not reported any issues yet.
Well, this description is long, but it what came out of my head when I thought of a way to describing them.
Thanks for reading :)
Jessica