Chance growing so far...
by Courtney
(Washington)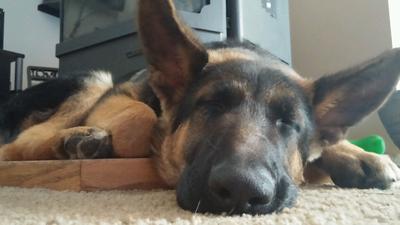 GSD Chance
This is Chance. We got him from a breeder near Centrailia. He is purebred.


Now he weighs 58 lbs. Not sure how tall he is, he wouldn't hold still, lol.
When we got him, I believe he was somewhere around 10 lbs at 7 weeks. Don't know how tall he was.
At the moment, he eats
Blue Buffalo
, going to switch to CostCo brand,
grain free
salmon based. He is hungry ALWAYS.
He runs around the backyard and house with our
other dog
from 4-8 pm weekdays and all day on weekends. We've got a pretty good sized back yard for him to stretch his legs.
Chance is wonderful! we love him soooo much! He is the most laid back GSD I've ever met, clumsy and adorable, a big goof. Almost 6 months old and still trips over his own paws. :)
Join in and write your own page! It's easy to do. How? Simply click here to return to German Shepherd Growth.