Mira the German Shepherd Mix- What do you think?

(PA)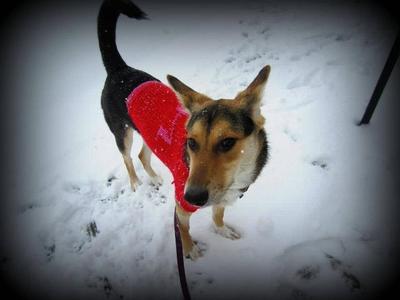 Playing in the snow!
This is Mira, full name Mira Belle (pronounced Meera).


We rescued her from a flea infested farm where she was underfed and left outside in one horse stall all day with her 10 brothers and sisters, (and as one of the two runts of the litter, had a couple scars when we got her from them being too rough).
We originally were thinking
German Shepherd Collie Mix
, but now that she's stopped growing so fast, it's looking like more German Shepherd Sheltie Mix.
She is almost 8 months old and weighs 45 lbs. We saw mom and she was a large GSD. Other considerations have been part greyhound, part heeler, or
part husky
.
She eats like a horse, so we have to regulate her food.
At least two laps/ chases around the house, at least 5 play sessions, and 1 walk around the neighborhood daily. Plus the occasional wrestle match/ play date when she's sees her neighborhood dog pals.
She is super friendly towards people and other dogs as long as they don't bark at her, then she gets scared. She loves sprinting, playing in the snow, a game of catch, and taking walks. She is extremely intelligent but still a little clumsy with those long legs.
She learns new tricks super quickly and is very loyal and watches over her mom and dad. Never shown any aggression, however any big or noisy objects always get barked at. She is very vocal, while playing, trying to sleep, or anything. Mira has the biggest personality and is just the sweetest girl!